Engelbert Stockholm - Meet the woman in charge
Johanna Pietsch is an interesting lady in many ways. The 44 year old Swede is not only stunningly beautiful and passionate about her job, she is also a jewellery specialist, gemologist and diamond grader. Today she's in charge of the succesful  fine jewellery brand Engelbert as their CEO.
Engelbert is a hertitage brand rooted in the Swedish jewellery tradition. The brand is known worldwide for their highly demanded Absolutely Knot Rings, which features a ring shaped as a tied knot and ofte paved with diamonds.  The Absolutely slim knot, The Absolutely Tight Knot, The Absolutely Loose Knot and The Absolutely Fat Knot.

We met with Johanna to hear about her journey in the jewellery industry.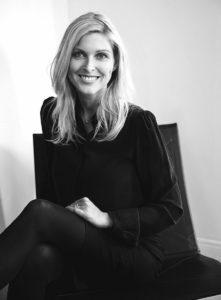 Why did you choose to work in the jewellery business?
I have always had a passion for the mix of science and beauty. Diamonds and gemstones are so beautiful and also something natural from our Earth. I think that is amazing. I also love working with marketing and all the strategic challenges making a brand move forward.
Describe a perfect day at the office for you?
I love it when a lot of things are happening at the same time. When everyone is busy and the mail box is really busy. Some creative meeting about new collections, our new campaigns or just some really good business is a perfect day.
What is your guilty pleasure?
I used to like fur coats. But I have realized those days are over. You have to close your eyes really hard to not see it's wrong.
What is your must have jewellery?
My next must have is a Fat Knot ring. Its a full pavé black diamond knot ring with 5.60 carats of diamonds. Or white diamonds.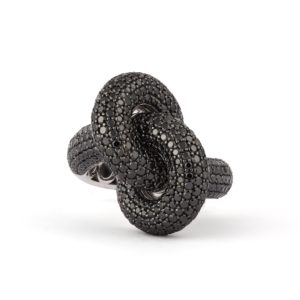 Do you have something you can't live without?
My four children definitely. I'm not a very materialistic person but as I am lucky to be able to buy a lot of jewellery Im of course nothing but grateful for that.
What do you dream about?
Right now, if we talk about work, I would love for Engelbert to be discovered outside of Sweden. Retailers in London, New York and say exclusive online retailers like The Jewellery Room are on my radar. If we're talking a bigger picture: peace man!
Do you have a crazy habit?
No, I'm quite rational.
Describe the design DNA of Engelbert:
We have a great designer at Engelbert - Thomas Carlsson. He has a really modern way of interpreting jewellery design. We may have ideas in our design team but he always gives it that unexpected twist, like our new Swirl Earrings, inspired by Japanese calligrafi. Or the big chunky bracelet Manhattan with a really intricate see-through skyline pattern. Our design can be rather arty but yet classic to be attractive for a lifetime. Also, as he says: 'It has to be beautiful from every angle'. We put a lot of extra effort to make our jewellery just perfect.
What would your occupation be if you weren't a CEO?
A doctor. Doctor Pietsch. Haha. I'm a problem solver and I think the human body is an amazing organ.
What is your biggest achievement in your jewellery career?
I think overall I'm very happy to have a great jewellery career. I was told by many that there were no jobs in the jewellery business when I was younger and started studying gemology and antique jewellery. But its all about who you are, and what you believe in. So believe in yourself, be yourself and stick to that.
Discover the exclusive Engelbert collection online