The right earrings for your face shape
Know that, the best earrings for you will create an impression of subtle elegance or make a bold statement. It will enhance your features and complement your face shape and your skin tone.
Although liking the design of an earring is the fun part, be sure to stick to the size, shape, and colours that work for you and the overall look you're after, so that you make the desired impression.
Every ear and piercing is different, so not every earring size will fit or look the same for everyone. Lobes are the traditional place for a piercing but cartilage piercings along the ear helix and on the conch and tragus have also become very popular.
Follow these guidelines and enjoy choosing your next pair of earrings from our earrings size, shape and style chart.
Facial bone structure vs. earring style
| Face Shape | Earring shape/style |
| --- | --- |
| Angular | Rounded earrings soften angular faces |
| Round | Long, dangling earrings or hoops can help accentuate your cheekbones. |
| Square/wide | Large earrings will help to balance your appearance |
| Oval | Long oval earrings are ideal for almost everyone, as are long earrings that are wider at the bottom than at the top. |
Types of earrings and the look they create
Studs are relatively small and are the most versatile and easy-to-wear style of earring. Pearls and gemstones are a classic stud choice with their neutral colours, lustre, and sparkle. Small studs are particularly suited to a multi-piercing look and are often paired with huggies, hoops and dangling chains.
Dangle or drop earrings, threaders and pendant chains hang below the ear lobe in varying lengths, creating length and interest, elongating a rounder face and complementing a long graceful neck.
Hoops and huggies: See Hoops & Huggies size guide here.
Earring size measurements
It's always good to know your lobe size–the length from your piercing to the edge of your ear lobe or helix. This measurement will serve as a reference for you when looking at earring sizes and dimensions.
Measure your lobe size with a straight ruler and note it down in centimetres or millimetres.
Stud earring sizes can vary from 0.25-4cm. In general, a 1cm (0.39") stud may cover or sit on your earlobe comfortably.
Diamond studs:
• Measured by carat weight and not size in cm/mm
• The weight indicated is per pair, not per stud unless otherwise noted.
• Depending on the cut, the stud size/dimensions can vary. As a general guide, diamond studs range from small 0.25ct.w per pair, measuring ≅0.32cm, to large 2.00ct.w per pair, measuring ≅0.65cm
Drop earrings:
In general, your comfortable length may be around 4-6cm (1.5"-2.3"). A drop pendant earring of 7-9cm (2.5"-3.5") may reach just below your jaw line or half-way down your neck.
• Lengths start from your piercing and can go up to 18-20cm.
• The best way to know what size is best for you is to measure, using a ruler, from your piercing to your preferred length.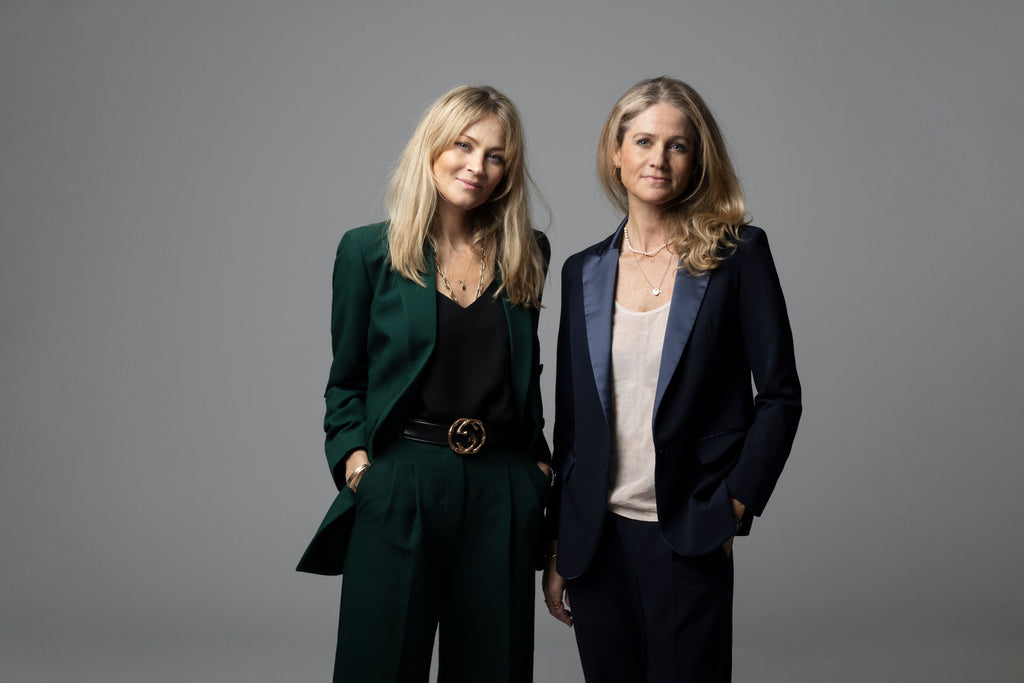 If you need personal guidance
You can always reach out
Have no worries when you shop online for earrings at thejewelleryroom.com. We guide and help customers all over the world on a daily basis, and our jewellery experts will do whatever it takes to find the perfect fit and size for the jewellery you're looking for.
And please remember if you are still in doubt, you can shop safely with us. We guarantee that you can always exchange your purchase within 30 days.
Love, Charlotte & Pernille