The super cool Victoria's Secret model, Jasmine Tookes, is spotted on the streets of New York, wearing the Danish label, Unspoiled Jewels.
Jasmine Tookes is known for her stunning shows as a Victoria's Secret Angel, notably her appearance in the 3 million dollar Fantasy Bra.
The long-legged brunette has also been the face of several significant Fashion Magazine covers, like Harper's Bazaar and Elle, as well as Vogue editions from all over the world, to mention just a few.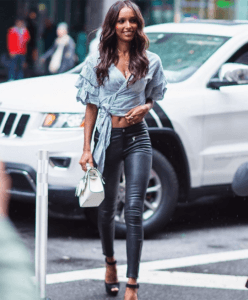 Jasmine's Instagram account has a 2.5 million following, and she has become an inspirational style icon for many. This some of the reasons why we are so excited to see her wearing the beautiful necklace from Unspoiled Jewels. Jasmine had the piece specially made in 18 carat gold. The necklace contains two diamonds and the designers have engraved coordinates of special locations in North America on the back.
Jasmine Tooks is not the only celebrity crushing on the Danish jewellery brand!
Despite being a fairly new label Unspoiled Jewels has earned a fast clientele of celebrities and It-girls from around the world. These influencers especially appreciate the possibility to personify their jewellery.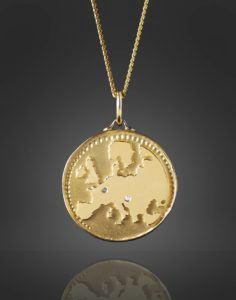 Buy The North America pendant here
Unspoiled Jewels create jewellery that represents the diversity of cultures and fascinating stories you create on your life's journey. You co-design your own unique necklace on their website, that depicts a geographic location with a special meaning. You can add a diamond and a set of coordinates to make it even more unique.
"We want to give you the opportunity to place a diamond in a place close to your heart and engrave your coordinates to remember the exact place where your memory unfolded", the founders of Unspoiled Jewels told us.