Tamara Comolli is far from a new brand, actually, the German jewellery label has inspired women from all the world for more than 25 years with its colourful designs and passion for gemstones.
It is exactly Tamara Comolli's composition of colourful gemstones and elegant designs that the brand is known for. Despite the German label's many years in the jewellery arena, the brand still presents eye-catching must-have pieces every season and accomplish the rather difficult task of giving fine jewellery a new spirit.
We just entered autumn - the season where we with snuggle up in cosy knits and soft cashmere. Combine those casual fabrics and complete your autumn look with Tamara Comolli's beautiful boutons with moonstones and diamonds.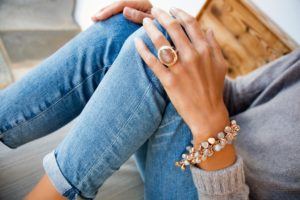 Tamara Comolli designs with a very personal aesthetic and invites you into a world of gems. With a modern elegance and a young approach, the brand offers casual luxury to women of all ages.
Have fun and combine the fine gems for a personal look and unique touch.
We are looking forward to presenting the latest sparkling news from Tamara Comolli at The Jewellery Room Event in London this Thursday and Friday. Until then visit Tamara's universe here.